If you have heard the saying once, you have heard the saying twice:

"It takes a village to raise a child."

Maybe you have brushed it off, because some may think it is really an overused saying. It is not.
Amazon
Community partnerships are ESSENTIAL for the success of any school. Not for the school or the students to survive school, but for them to thrive.
I came across a book about three years ago now that Joe Mazza introduced me to. It fascinated me and if there is one book that should be in the hands of all administrators in a district, the PTO team as well as teachers is Beyond the Bake Sale.
There are two arching themes from this book:
Families are the key stakeholders and should be treated as such for any school improvement to happen.

To leave out the community and others who care about children from school involvement is a sure fire way to kill school improvement.
Many people have within them, a passion for partnership. It is that passion and that partnership that elevates a school and changes lives.
For the LOVE of Our Village
I teach in a rural school in Central Minnesota. I strive everyday to help students take ownership over their learning, believe in themselves, dream and grow as members of the community and the world...all coming back to creative, curious and diverse learners. That's all I want them to be and and I do my best to facilitate that by creating authentic learning situations through providing personalized learning as well as through books and items for our Makerspace.
Though most days, I am in the classroom alone, I want to tell you that I did not do this alone.
I want to take time to honor those who have stood with me in in the classroom, either by physical presence or financial contributions.



We have variety of angels in the form of parents who are a team of supporters who have provided for our classroom their TIME as well as resources like items for our classroom Makerspace and books for our bookshelves.

We have Grandma Mary who comes in twice a week for a long, long time and sits with the students and listens to them read, plays games with them as well as takes the time to hear the heartbeat that the students want to share with her. She is magnificently loved by us.

We have a community friend who has gone above and beyond what many people do and supported our classroom with silent gifts and last year with a pizza party.

There are astounding people from Donor's Choose who have surprised our classroom with gifts.

Random people who attended the Minnesota Twins game the day that Adopt-A-Classroom was there and donated to our classroom which I used for Christmas gifts this year for the students.

We had two separate families from church that supplied our class with winter hats as well as two drones.

The school PTO donated two sets of LEGO robotics that had the students buzzing.

I wrote a grant for our district and was given a gift to design and create a school wide Makerspace filled with many wonderful things to create and do!

I have a superintendent and a principal who are supportive of the learners in our classroom and encouraging and I can't tell you what a difference that makes in my classroom.
I am

not

telling the story of giving in my classroom to be boastful. I am telling the story because this changed my students lives in our classroom and I am so humbled and grateful. I must give thanks.
I am a single mom with two kids of my own and on a teacher's income striving to make our classroom learning journey exceptional and memorable. I have a small classroom stipend and I spend my own money as well. I also spend a great deal of time reaching out to people and telling them how absolutely fabulous the learners in my classroom are. I share the joy of them I tell the story of their learning and experiences on Instagram and on Twitter. I shout from the roof tops:

MY STUDENTS ROCK

. I reach out to others because I know that others want to help. I provide ways that they can help by making lists and talking bravely about classroom needs. People want to help. People want to invest in the future, and as Whitney Houston sings, I too believe that the children are the future!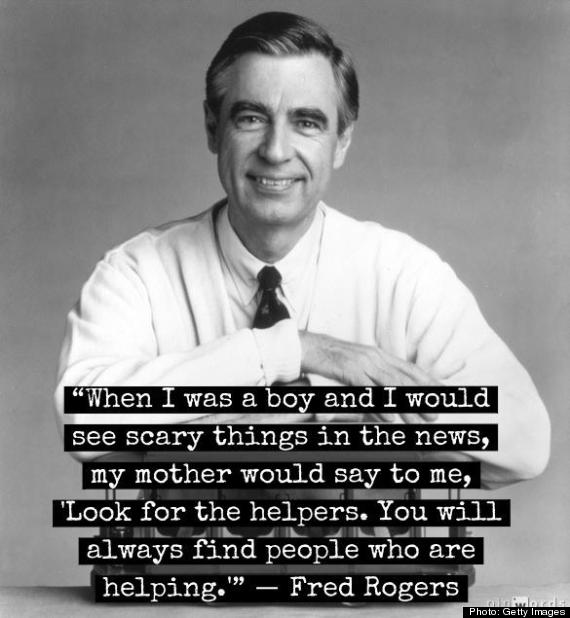 Huffington Post
Fred Rogers often told this story about when he was a boy and would see scary things on the news:
"My mother would say to me, 'Look for the helpers. You will always find people who are helping.' To this day, especially in times of disaster, I remember my mother's words, and I am always comforted by realizing that there are still so many helpers — so many caring people in this world."
This is our story, it is a story of supernatural occurrences in my classroom and a story of many human angels reaching out to help. Turn on the TV or read the news on the internet, it is filled with the saddest of stories that tear apart our souls and cause our eyes to well in tears and our hearts to break. It is filled with stories that enrage our spirit. You will see bad things if you look for bad things.
I look for the good in humanity and in situations and this is what showcase to the students, looking for the good. These have been our helpers and this has been our good. Some might think that what people are providing for my class is just toys, however, that could not be further from the truth. We received through their giving, non tangible gifts.
These are the lasting gifts the helpers in my classroom have given to my students:
Relationship building

Collaboration

Imagination

Creativity

Traveling to places and through time travel by reading books

Mattering
To those who have given in tangible ways through gifts and time in our classroom, thank you. You are stepping into a child's life and speaking life into them and making an impact that lasts a lifetime. To those who give in a variety of ways in classrooms around the world, it matters...that is all.
It does take LOVE in many kinds to do this, thank you for loving our village, our classroom. It takes a village who together take the time to stop the chaos and the noise of life to hear the heartbeat of a child in magnificent ways. You matter.